BASE-SEAL BS-100 Concentrate Is Very Easy To Use
BASE-SEAL BS-100 is simply diluted to its proper strength in a water truck and applied as directed. Traffic does not need to be interrupted while BASE-SEAL BS-100 is applied or curing. When paving after application, it is suggested that 24 to 72 hours curing time be allowed to obtain maximum cementation.

REQUIRED EQUIPMENT


There are no special equipment requirements for using BASE-SEAL BS-100 during routine road construction. Only the following items are needed:
Water Truck
Compactor
Other types of equipment may be used for special projects such as reclaiming old asphalt or seal coat roads. Additional equipment includes: Pulvermixer / Recycle Machine, and Vibratory Compactor.
GENERAL DILUTION RATES for BASE-SEAL BS-100 Concentrate
As a general rule, 3.0 to 4.0 ounces of BASE-SEAL BS-100 will treat 1 square yard of road base to a depth of 6 inches when diluted with water and properly applied. Each gallon of BASE-SEAL BS-100, gets diluted with approxomately 32 gallons of water (1:32 ratio) in the water truck. Compaction must begin when the mixture is completely uniform at Optimum Moisture Content (OMC). The required density is a minimum of 98% standard proctor and can be easily achieved by a vibratory compactor. Additional water can be added to the BASE-SEAL BS-100 & water solution to achieve OMC.
Typically, a road 1 mile long and 24 ft wide (14080 square yards) treated to a depth of 6 inches requires 7 to 8 drums of BASE-SEAL BS-100. In granular soils, some engineers are using our TOP-SHIELD TS-100 (click) product along with BASE-SEAL BS-100 for even greater road base stabilization.
Factors that will determine the exact amount of BASE-SEAL BS-100 to be used are the soil types encountered, the volume of traffic (AADT) the road is expected to handle. Higher AADT counts will require greater depths of base course treatment.
To assist you in getting an approximate idea of how much Base-Seal BS-100 you will need for your project, click on the link below for an EXCEL* spreadsheet that will help you with both Metric and
American Standard calculations.


DON'T HAVE EXCEL*?
Then contact your local BASE-SEAL Representative for assistance with your calculations and any other questions you may have about our products.

a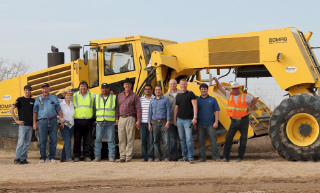 BASE-SEAL Offers Road
Design & Application Assistance
(Click Picture)


Note:
1. In the absence of a road design, or laboratory analysis, the above computations are for estimation purposes only.
2.Base-Seal International, Inc., warrants that BASE-SEAL contains the necessary ingredients defined in the BASE-SEAL specifications.
3. Do not store BASE-SEAL in aluminum containers. BASE-SEAL should only be applied when temperature is 40 degrees Fahrenheit or above.
© 1995-2013 Base-Seal International Inc. *EXCEL is a registered trademark of the Microsoft Corporation